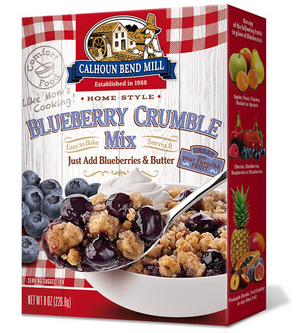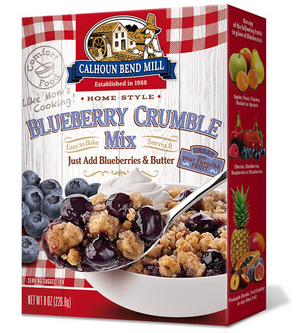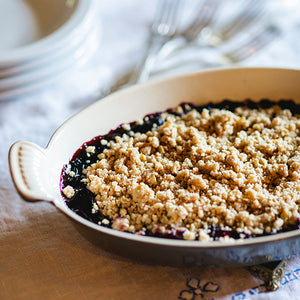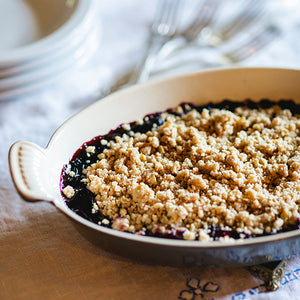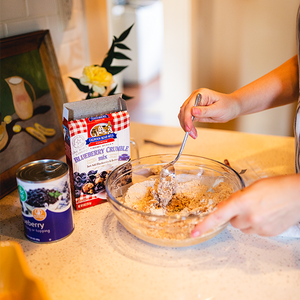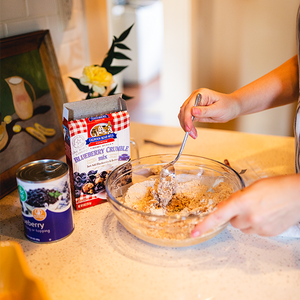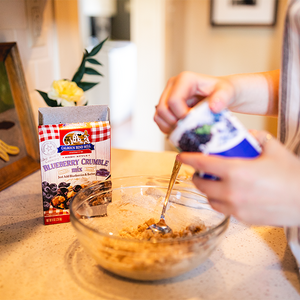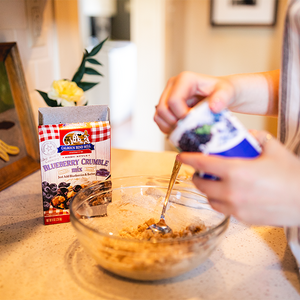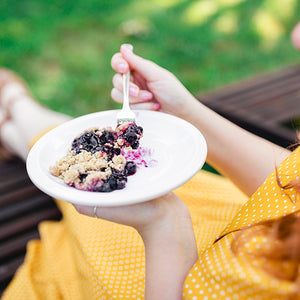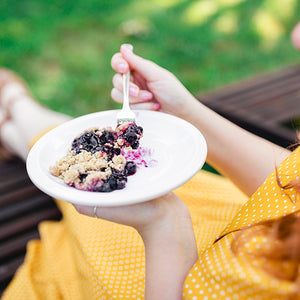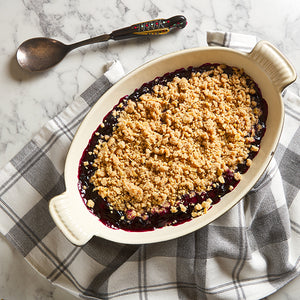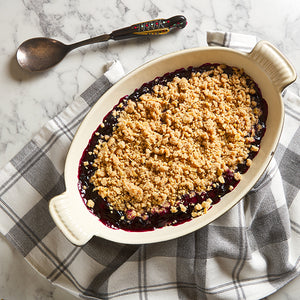 On Sale
Blueberry Crumble Mix
There's nothing quite like the flavor and texture contrast between plump, juicy fruit and a crisp, crumbly topping. Our Blueberry Crumble Mix is a sweet, crumbly topping made with whole grain rolled oats so you can make a delicious, deep-dish, classic American crumble dessert. Pair it with blueberries for a traditional combination or experiment with other berries or fruits and make your own unique recipe. All you'll need is some fruit, butter, and your appetite!
Serve warm, alongside a scoop of vanilla ice cream or with whipped cream.
Experiment with your filling and try different fresh or canned fruit in place of blueberries, such as raspberries, strawberries, blackberries, apples, peaches, pears, apricots, pineapple, or fruit cocktail. Or branch out into vegetables and pair with rhubarb.
Cane Sugar, Unbleached Wheat Flour, Whole Grain Rolled Oats, Nonfat Milk, Salt, Corn Starch, Cinnamon, Natural Flavor.

Contains: Wheat, Milk
YOU WILL NEED:
BLUEBERRIES: 1 Can (20 - 24 OZ / 600 - 700 g) Blueberry pie/fruit filling OR Canned blueberries OR Fresh* blueberries1 Pint (12 OZ / 300 g) OR 2 – 6 OZ (300 g) containers
BUTTER/MARGARINE: 4 Tablespoons (60 g) OR 1/2 stick MELTED (for best results, use butter)

OVEN DIRECTIONS:
PREHEAT oven to 375° F (190° C - Gas Mark 5).
SPREAD blueberry pie/fruit filling OR canned blueberries (drained) OR fresh* blueberries (2 Cups / 300 g) into an 8 or 9 inch (20 - 23 cm) baking dish.
COMBINE melted butter with mix until crumbly. Sprinkle mixture evenly over blueberries.
BAKE 25 - 30 minutes or until bubbly and golden brown.Serve warm. If desired, top with ice cream or whipped cream.

* If using FRESH or FROZEN (thaw & drain) fruit, coat cooking dishwith butter or cooking spray and sprinkle 1 Tablespoon (15 g) of sugar over fruit to sweeten.
TASTY VARIATIONS:
Use your choice of fresh* fruit, canned fruit OR pie/fruit filling in place of blueberries.
Blueberry Cheesecake Delight - Blend 1 Pkg. (8 OZ / 230 g) cream cheese, 1 Egg, 1/2 Cup (100 g) sugar and 3 Tablespoons (25 g) flour until smooth. Coat an 8 or 9 inch (20 - 23 cm) baking dish with butter or cooking spray, pour prepared cream cheese mixture into dish. In step 2 above, spread blueberries over cream cheese mixture and continue to step 3. After baking, allow to firm/set for 15 minutes before serving.