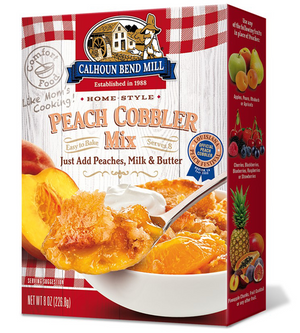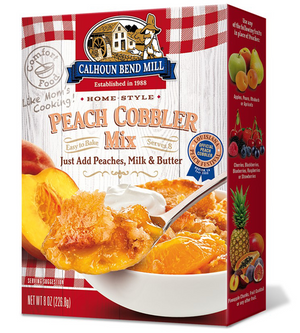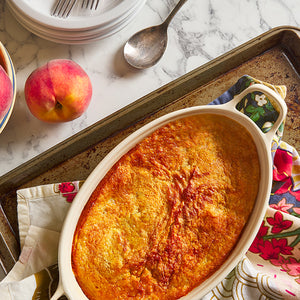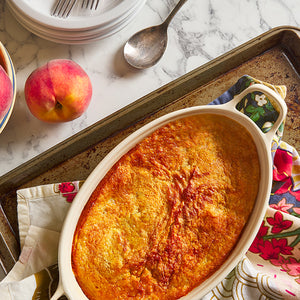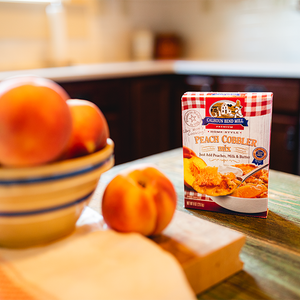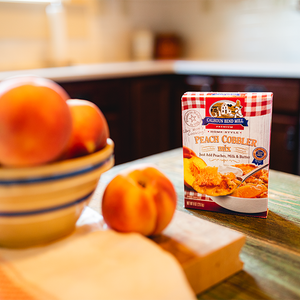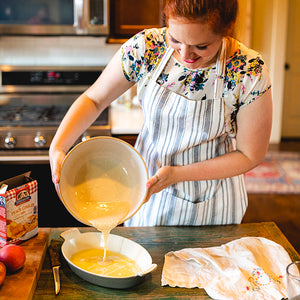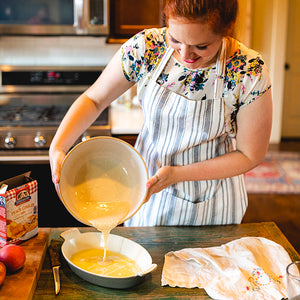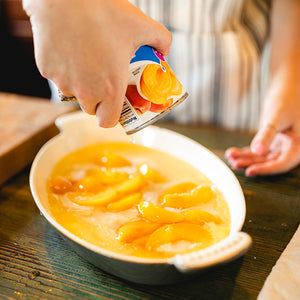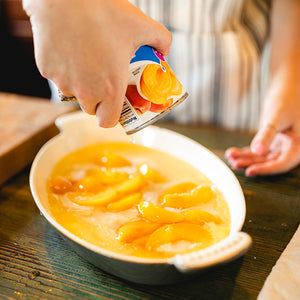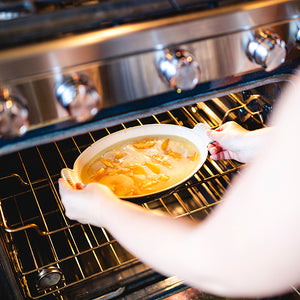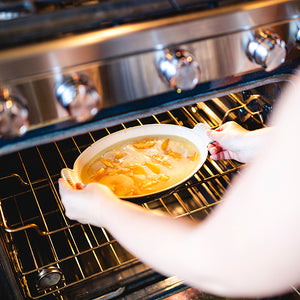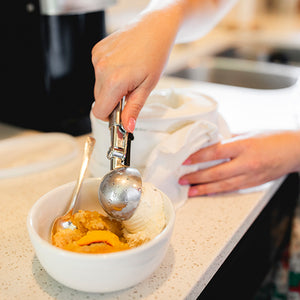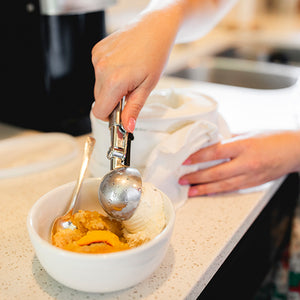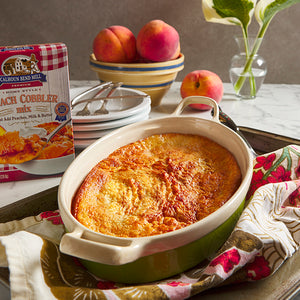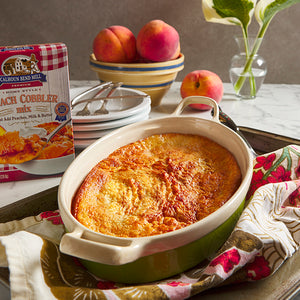 On Sale
Peach Cobbler Mix
Some folks may think the hero in cobbler is the fruit filling, but anyone who knows true southern cooking knows it's all about the crust. Get the perfect sweet, soft crust for this classic, deep-dish American dessert with our Peach Cobbler Mix. Although peaches are a classic combination, don't let that stop you from pairing our delicious crust with other sweet, juicy fruits. This mix just needs fruit, milk, and butter to make a simple, satisfying, homestyle comfort dessert.
Serve warm, alongside a scoop of vanilla ice cream or with whipped cream.
Experiment with your filling and try different fresh or canned fruit in place of peaches, such as apples, pears, cherries, berries, apricots, pineapple, or fruit cocktail. Or branch out into vegetables and pair with rhubarb.
Sugar, Unbleached Wheat Flour, Baking Powder (Sodium Acid Pyrophosphate, Sodium Bicarbonate, Corn Starch, Monocalcium Phosphate), Salt, Spice.

Contains: Wheat
YOU WILL NEED:
PEACHES: 1 Can (15 - 16 OZ / 400 - 500 g) sliced Peaches in syrup, natural juice or water OR Pie/fruit filling OR 4 Fresh* peaches(1 1/2 LBS / 700 g) peeled and sliced into thin wedges
MILK: 2/3 Cup (160 ml)
BUTTER/MARGARINE: 4 Tablespoons (60 g)
OR 1/2 stick(for best results, use butter)
OVEN DIRECTIONS:
PREHEAT oven to 375° F (190° C - Gas Mark 5).
MELT butter in either an 8 or 9 inch (20 - 23 cm) baking dish or iron skillet.
COMBINE milk with cobbler mix; stir thoroughly to remove any lumps.
POUR batter over butter. Then pour canned peaches with syrup, natural juice or water OR fresh* peaches (3 Cups / 600 g) over batter. Distribute peaches evenly; avoid stirring. Note: Batter will rise above peaches while baking to form a golden crust.
BAKE 30 - 35 minutes or until bubbly and golden brown. Serve warm.If desired, top with ice cream or whipped cream.

* If using FRESH or FROZEN (thaw & drain) fruit a simple syrup is required for preparation. 2 Tablespoons (30 g) sugar in 1/4 Cup (60 ml) warm water OR use 1/4 Cup (60 ml) of your favorite fruit juice.
TASTY VARIATIONS:
Use your choice of fresh* fruit, canned fruit OR pie/fruit filling in place of peaches.
Cream Cheese Cobbler - Blend 1 Pkg. (8 OZ / 230 g) cream cheese, 1 Egg, 1 Cup (190 g) sugar and 3 Tablespoons (20 g) flour until smooth. Spoon mixture into a resealable plastic bag, snip corner, squeeze in a side-to-side motion over unbaked cobbler, bake as directed above.