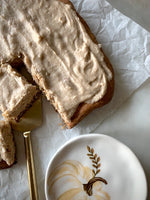 You Will Need
2 packages of Calhoun Bend Mill Peach Cobbler Mix
1 cup All - Purpose Flour
2 teaspoons Ground Cinnamon 
1/2 teaspoon Nutmeg
1 cup Unsalted Butter
1/4 cup Light Brown Sugar
2 large Eggs, at room temperature
1 teaspoon Vanilla Extract
1/4 cup Sour Cream
1/2 cup Apple Cider
For the Frosting
1/2 cup Unsalted Butter, at room temperature
1/4 cup Brown Sugar, tightly packed
1/2  teaspoon Ground Cinnamon
1/8 teaspoon Salt
1 1/2 cups Powdered Sugar, sifted
1/2 teaspoon Vanilla Extract 
1 tablespoon Milk, additional tablespoons if needed
Cake Directions
Preheat oven to 350° F

degrees. Either lightly grease your 9 x 13 pan or use parchment paper. In a medium bowl, add your 2 packages of Calhoun Bend Mill Peach Cobbler mix, flour, cinnamon, and nutmeg. Whisk until combined.

 

In a separate bowl, use either a stand mixer or electric mixer and combine butter, brown sugar, and beat until light and fluffy. Then add eggs and continuing to beat. Finally, add the vanilla extract, apple cider and sour cream.

 

Add your flour mixture gradually to your wet ingredients. Beat until fully combined. Transfer your batter into your baking dish and place in oven. Bake for 30 - 35 minutes. Use a toothpick to insert into the middle of the cake to determine if it's done. Toothpick will come out clean if done.

 
Frosting Directions
In a large bowl, beat together the butter and brown sugar until light and fluffy. It's best if you use an electric mixer or stand mixer. Either will work.

 

Add cinnamon and salt. At a low speed, gradually add your powdered sugar to the mixture until ingredients are fully combined. Add in your vanilla extract and milk and increase your speed. Beat until light and fluffy. If frosting is too runny, add in more powdered sugar. If frosting is too thick, add in more milk.

 

Spread frosting over cake.