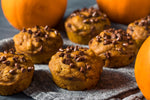 You Will Need
2 boxes Calhoun Bend Mill Peach Cobbler Mix
1 8oz can Pumpkin Purée
2 Eggs
1/2 cup Vegetable Oil
1/3 cup Water
1 teaspoon Ground Cinnamon
1/2 teaspoon Ground Ginger
1/4 teaspoon Ground Cloves
1 cup Chocolate Chips
Directions
1. Preheat oven to 350 degrees F. 
2. Grease your muffin tray.
3. In a large bowl, mix together pumpkin purée, eggs, oil, and water. In a separate bowl, whisk together the 2 boxes of Calhoun Bend Mill Peach Cobbler Mix, cinnamon, ginger, and cloves. Stir the dry ingredients into the pumpkin mixture until blended. 
4. Add in chocolate chips. Distribute into muffin tray.
5. Bake for about 25 - 30 minutes in the preheated oven. Muffins are done when inserting a toothpick and it comes out clean.