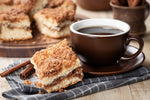 You Will Need
1 box Calhoun Bend Mill Blueberry Crumble Mix
1/2 cup unsalted Butter softened
8 oz Cream Cheese softened
1 cup Brown Sugar
1/2 cup Granulated Sugar
2 eggs
1 1/2 teaspoon Vanilla Extract
2 1/2 cups all-purpose Flour
2 teaspoons Baking Powder
1 teaspoon Cornstarch
1/2 teaspoon Salt
1/2 cup Buttermilk
For the Cinnamon Swirl
1/4 cup Sugar
1 1/2 teaspoon Cinnamon
For the Glaze
1/2 cup Powdered Sugar
2 - 3 teaspoons Milk
Directions
1. Preheat the oven to 375° F and lightly grease or flour a 13 x 9 baking pan.
2. Using a stand mixer or electric mixer in a large bowl, mix together the softened butter and cream cheese. Then beat in sugars until mixture is fluffy. Add the eggs and beating until fully combined. Add vanilla extract.
3. In a separate bowl, whisk together the flour, baking soda, cornstarch & salt. Then gradually add the flour mixture to the wet ingredients, alternating with the buttermilk. Beat until fully combined.
4. Spread half of the batter onto your pan. In another small bowl, whisk together the sugar and cinnamon for the cinnamon swirl. Then evenly spread/sprinkle over batter.
5. Spread the remaining batter over the top layer. Note that batter will be thick so you can expect having a bit of trouble with the second layer.
6. Finally, prepare Calhoun Bend Mill Blueberry Crumble Mix according to the box directions. Once the melted butter and mix is fully combined, evenly sprinkle the crumble over your batter.
7. Bake in oven for 40 minutes.
8. Combine your powered sugar and milk in a bowl to make the glaze. Once cake is done, drizzle on top of your coffee cake.