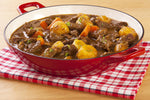 You Will Need
1.5 pounds Beef Chuck, top round or beef stew meat cut into bite-sized pieces
½ cup Calhoun Bend Mill Onion Coating Mix
1 Yellow Onion Diced
2 Carrots peeled and diced
2 Garlic Cloves minced
1 teaspoon Salt
½ teaspoon Black Pepper
2 sprigs Fresh Thyme
1 sprig Fresh Rosemary
1 teaspoon Smoked Paprika
1 Bay Leaf
2 tablespoons Tomato Paste
1 pound Yellow Potatoes quartered
1 tablespoon Worcestershire Sauce
1 (12 ounce) can or Irish Stout
3-4 cups Beef Broth
Directions
In a large dutch oven or pot, heat 2 tablespoons of olive or avocado oil.
In a bowl, toss the meat in the Calhoun Bend Mill Onion Coating Mix
Add diced onion and carrots to the pot. Saute for a few minutes until veggies begin to soften and the onion is translucent.
Next, add the meat to the pan and saute until browned on all sides.
Add in garlic, paprika, salt, pepper, thyme, rosemary, bay leaves and tomato paste.
Then, add the potatoes to the pot and pour in the Worcestershire sauce, beer and beef broth, scraping the bottom of the pan to get the browned bits off.
Heat, covered, over medium-low heat for 45-50 minutes or until the potatoes are tender.
Serve and enjoy!