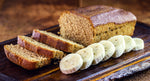 You Will Need
1 package Calhoun Bend Mill Apple Crisp Mix
1 teaspoon Baking Powder
2 mashed Bananas 
1/2 stick browned Butter 
2 Eggs
Directions
Preheat the oven to 350 degrees F and grease or line a loaf pan with parchment paper.
Heat a small saucepan or medium heat and add the butter. Stir occasionally until the butter starts to brown. Turn off the heat and let cool for a few minutes.
Add all of the ingredients to a large bowl and whisk until combined.
Pour the batter into the loaf pan and bake for 45-50 minutes or until a toothpick stuck in the center comes out clean.
Slice and enjoy!