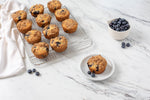 You Will Need (Makes 12 muffins)
2 Eggs
1/4 cup melted Coconut Oil or Butter (cooled)
1/2 cup Maple Syrup
1 teaspoon Vanilla Extract
1/2 cup Milk of choice
2 1/2 cups Flour
1 teaspoon Baking Powder
1/4 teaspoon Salt
1 cup Blueberries
Calhoun Bend Mill Blueberry Crumble mix
1/2 stick melted Butter
Directions
Preheat the oven to 350 degrees F and grease a muffin tin or line with cupcake liners.
Mix the wet ingredients together in a large bowl.
In a separate bowl, combine the dry ingredients. Pour the dry ingredients into the wet ingredients.
Mix well until just combined.
Fold in the blueberries.
In a medium-sized bowl, mix the Blueberry Crumble Mix with the melted butter.
Evenly distribute the batter throughout the muffin tin, filling each cup about ¾ full.
Top each muffin with the crumble. 
Bake for 20-25 minutes or until a toothpick comes out clean.