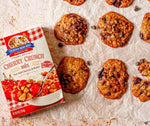 You Will Need
1/2 stick softened Butter
1 Egg
1 teaspoon Vanilla Extract
1 package Calhoun Bend Mill Cherry Crunch Mix
1/2 cup Chocolate Chips
1 cup fresh or frozen (defrosted) pitted Cherries, chopped
Directions
1. Beat together butter, eggs and vanilla in a large bowl until combined.
2. Mix in the Cherry Crunch Mix package.
3. Fold in the chocolate chips and cherries.
4. Chill in the fridge for 30 minutes.
5. Scoop about 2 tablespoons of dough using either a cookie dough scoop or spoon and place on a cookie sheet.
6. Bake for 15-20 minutes. Let cool on a wire rack.