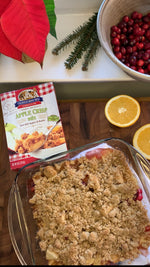 You Will Need:
1 box of Calhoun Bend Mill Apple Crisp mix
4 Apples, peeled and sliced
2 cups Cranberries, fresh or frozen
2 tablespoon Orange Juice
2 teaspoons Orange Zest
2 tablespoons All-Purpose Flour
1/2 Granulated Sugar
1/4 cup Light Brown Sugar, tightly packed
1 teaspoon Ground Cinnamon
1/2 teaspoon Ground Ginger
Directions for Cranberry Apple Filling:
Preheat oven to 375° F

. Lightly grease a baking dish with butter.

 

Place the cut apples and cranberries in a large bowl, stir in the orange juice and zest.
Sprinkle the flour, sugars, and spices on fruit and mix the ingredients until fully coated.
Pour the fruit filling into the prepared baking dish. Set aside.
Directions for Crisp Topping:
Make according to the box directions. Melt 4 tablespoons of butter.
Stir melted butter in with dry ingredients from the box.
Mix together, crisp should be crumbly.
Pour crisp evenly over fruit filling and bake for 30 minutes.