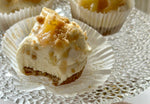 You will need:
1 package of Calhoun Bend Mill Apple Crisp Mix
4 tbsp butter, melted
1 cup heavy cream, cold
1/2 tsp vanilla extract
16 ounces cream cheese, at room temperature
1/2 cup white sugar
3 tbsp sour cream, at room temperature
3/4 tsp vanilla extract (in addition to what is listed above)
1 can apple fruit filling
1 and 1/4 tsp cinnamon
1/4 tsp nutmeg
1/4 tsp ground cloves
Directions:
1. Be sure to allow the cream cheese and sour cream have come to room temperature first. Line one muffin pan with paper liners.
2. Preheat oven to 350 degrees.
3. If need be, cut the canned apples into bites size pieces and set aside.
4. Make the crust using the Apple Crisp Mix. Stir in melted butter and until completely combined. Press 1-2 spoons full of the crust mixture into each liner.
5. Bake the crust for 5 minutes and allow time to cool.
6. In a medium sized bowl begin mixing the heavy cream and 1/2 tsp vanilla using either an electric mixer or kitchen aid. Mix the cream until it becomes thick and whipped cream texture. Set aside.
7. Cream the cream cheese using your electric mixer or kitchen aid. Add the sugar and continue mixing. Add the sour cream and the rest of the vanilla.
8. Stir in about half of the apple fruit filling and then add spices.
9. Gently fold and mix the whipped cream and the cream cheese mixture, don't over mix here.
10. Pipe or spoon the filling unto the baked crusts.
11. Top with any remaining apple fruit filling and apple crisp mix.
12. Cool in the refrigerator for about 3 hours before serving.
Enjoy!