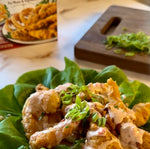 Ingredients:
1 Calhoun Bend Mill Awesome Onion Crispy Fry Mix
1 pound (25-30 pieces) raw shrimp, peeled and deveined
Cooking oil
1/4 cup plain Greek yogurt
3 tablespoons Thai-style sweet chili sauce
1 teaspoon Sriracha
1 bib lettuce, for plating
Thinly sliced green onions, for garish
Directions:
Frying Shrimp:
Begin heating cooking oil. Allow oil to reach 375˚- 400˚ F.
Combine 1/4 cup mix with 1/2 cup water to prepare a wet batter; set aside.
Empty remaining dry contains in a separate bowl for the dry dipping.
Begin by dusting the shrimp lightly with dry mix. Dip dusted shrimp into wet batter then again dust lightly with dry mix.
Deep fry shrimp in hot oil for 2 - 4 minutes. Fry until shrimp are crisp and golden brown.
Drain shrimp on absorbent paper or wire rack.
Bang Bang Sauce:
Mix the plain Greek yogurt, Thai-style sweet chili sauce, and Sriracha in a bowl until fully combined. 
Plating:
Lay lettuce leafs on serving platter, add cooking shrimp, drizzle bang bang sauce over shrimp, and garish with green onions. Use remaining bang bang sauce for dipping.
Enjoy!