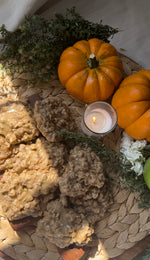 Ingredients:
Cookies:
1 Box of Calhoun Bend Mill Apple Crisp Mix

1 1/3 cup of Old Fashioned Oats

1 1/3 cup of All-purpose Flour

 2/3 cup of Brown Sugar

2 tablespoons of Cinnamon

 1 Granny Smith Apple

 1 Egg

1/4 tsp. of Baking Soda

1 1/2 sticks of Salted Butter
Drizzle:
1 1/2 cups of Powdered Sugar

2 Tbl. Of Apple Cider or Juice

3 Tbl. Of Caramel Sauce
Directions:
Cookies:
Preheat oven to 350 degrees F. 
In a medium mixing bowl whisk together Calhoun Bend Mill Apple Crisp Mix, flour, cinnamon, baking soda and salt until combined.
Mix the brown sugar with softened butter until smooth. Mix in vanilla and eggs.

Add the dry ingredients to the butter mixture and mix until combined. Mix in the oats and grated apple.  

Roll the dough into 1-2 Tbl. balls. Place on baking sheet and gently flatten slightly with your fingers.
Bake 14-16 minutes until cookies are lightly browned on the bottom and edges.
Let cool on the baking sheet for at least 5 minutes.
Drizzle:
Whisk together the powdered sugar, apple cider, and caramel sauce.

Using a spoon, drizzle the cookies generously with the icing and top.

Allow the glaze to set before serving, about 1 hour (at room temperature).
Enjoy!