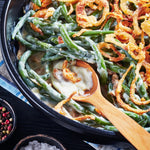 Ingredients:
For the Casserole:
🍁1 1/2 pounds fresh green beans, trimmed and blanched
🍁1 can (10.75 oz) cream of mushroom soup (or homemade alternative)
🍁1/2 cup milk
🍁1 teaspoon soy sauce
🍁1/4 teaspoon black pepper
🍁1 cup shredded cheddar cheese (optional)
For the Topping:
🍁1 Box of Calhoun Bend Mill Awesome Onion Crispy Fry Mix
🍁Four onions thinly sliced 
🍁Cooking oil
🍁Water 
Directions:
🍁 Preheat and Prepare:
Preheat your oven to 350°F (175°C). Grease a 9x13 inch baking dish to ensure your casserole doesn't stick.
🍁Blanch the Green Beans:
Bring a large pot of water to a boil. Add a generous pinch of salt and the trimmed green beans. Cook for about 2-3 minutes, then immediately transfer them to a bowl of ice water to stop the cooking process. This step ensures the green beans retain their vibrant color and crisp texture.
🍁Prepare the Mushroom Sauce:
In a medium saucepan, combine the cream of mushroom soup, milk, soy sauce, and black pepper. Heat over medium heat, stirring constantly, until the mixture is smooth and heated through. This creamy sauce is the heart of your casserole.
🍁Combine the Elements:
In a large mixing bowl, gently fold the blanched green beans into the mushroom sauce mixture. If you want to add an extra layer of flavor and creaminess, stir in the shredded cheddar cheese at this stage.
🍁Assemble the Casserole:
Transfer the creamy green bean mixture into the prepared baking dish, spreading it out evenly.
🍁Fry the onions
PEEL & CUT onion into thinly sliced (1/8 inch thick)
COMBINE 1/4 Cup dry mix with 1/2 Cup water. Stir mixture thoroughly (prepare more as needed).
COAT onion slices by dusting lightly with dry mix. Dip dusted onion slices into mixture. AGAIN dust lightly with dry mix.
FRY in oil 375° F until crispy and golden brown(2 - 3 minutes). Remove and drain on absorbent paper.
🍁Add the Topping:
Sprinkle the crispy fried onions evenly over the top of the casserole. This crispy, golden topping adds a delightful crunch and flavor contrast to the creamy beans.
🍁Bake to Perfection:
Place the casserole in the preheated oven and bake for approximately 25-30 minutes, or until the edges are bubbly and the onions are golden brown.
🍁Serve and Enjoy:
Allow the casserole to cool for a few minutes before serving. This dish pairs wonderfully with other holiday favorites like roast turkey, mashed potatoes, and cranberry sauce.