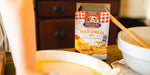 You Will Need
2 packages Calhoun Bend Mill Peach Cobbler Mix
1 (20-24 oz.) can of Crushed Pineapple
1 (20-24 oz.) can of Blueberry Pie Filling (or substitute with your favorite pie filling)
1 cup Butter, melted
1 cup Chopped Pecans (optional)
Directions
Preheat oven to 350°.
Spread 1 can of crushed pineapple with juice in a greased 13 x 9-inch pan, evenly spread 1 can of pie filling on top.
Sprinkle peach cobbler mixes over mixture to cover entire pan, then top with pecans. (optional)
Drizzle melted butter over entire top to cover all dry mix.
Bake for 45 minutes or until golden brown. Serve warm with whipped cream or ice cream.