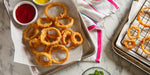 You Will Need
1 package of Calhoun Bend Mill Awesome Onion Coating Mix
Cold water
Cooking oil
1-3 large onions (3-4 inches in diameter)
Directions
PEEL & CUT onion into 1/2 inch slices and separate into rings OR cut onion vertically into 1/2 inch wedges and separate into straws. Place cut onion pieces into cold water; set aside.
COMBINE 1/4 cup onion mix with 1/2 cup water to prepare a batter; set aside.
REMOVE cut onion from water; spread/separate petals outward. Dust lightly with dry onion mix. Dip dusted onion into batter then again dust lightly with dry onion mix. In each step, spread cut onion pieces to ensure thorough coatings between all cut onion pieces..
FRY in 375˚F oil until crisp and golden brown (2-3 minutes). Drain on absorbent paper.
Tasty Variations
• Use any of the following items in place of onions: potatoes, dill pickles, okra, zucchini, eggplant, squash, mushrooms, broccoli flowerets, jalapeno, cauliflowerets, mozzarella cheese sticks or any of your favorite meats such as: pork chops, round steak, wild game, chicken, fish or shrimp.