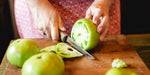 You Will Need
1 package Calhoun Bend Mill Fried Green Tomato Coating Mix
1/2 lb bacon, chopped
1 large red onion, thinly sliced
1 tablespoon canola oil
5 tablespoon Parmesan Romano cheese, freshly grated
5 tablespoon breadcrumbs
1/2 teaspoon salt
Freshly ground black pepper to taste
1 tablespoon fresh thyme leaves
Directions
Lightly brown the bacon in a skillet over medium heat; set aside.
Pour off all by 2 tablespoon of the bacon grease.
Add onion and cook over low heat until caramelized (about 10 minutes).
Preheat oven to 350°.
Combine the cheese, breadcrumbs, and oil; set aside.
Prepare Calhoun Bend Mill Fried Green Tomatoes according to package directions.
Using shallow baking dish, place 4-5 fried tomato slices around one side, overlapping them slightly.
Spoon some of the bacon-onion mixture on the lower half of each tomato slice, and they layer another row of tomatoes across the first row at a slight angle against one another, top each slice with more of the bacon-onion mixture.
Repeat until the dish is full.
Sprinkle with salt, pepper, fresh thyme, and the Parmesan Romano cheese/breadcrumb mixture.
Cover the dish with foil and cook for 30 minutes.
Remove the foil and continue cooking until the top of the gratin is browned.