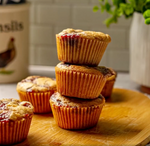 You Will Need
2 Mashed Bananas
1 package Calhoun Bend Mill Apple Crisp Mix
1 teaspoon Baking Powder
1/2 cup Oil
2 Eggs
1/2 cup Peanut Butter
1/2 cup of your favorite Jelly
Directions
Preheat the oven to 350 degrees F and grease a muffin tin or line with muffin liners.
Add all of the ingredients aside from the peanut butter and jelly to a bowl and mix to combine.
Mix in the peanut butter.
Pour batter into muffin tins about 3/4 way full. Add about 1 teaspoon of jelly to each muffin cup and swirl with a knife or skewer to marble.
Bake for 20-25 minutes, let cool and enjoy!