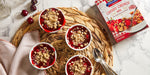 You Will Need
1 package Calhoun Bend Mill Cherry Crunch Mix
1-1/2 lbs. (about 3 cups) Fresh Cherries OR 1 can (20 to 24 ounces) of Cherry Pie Filling OR Canned Cherries
4 Tbsp. Butter or Margarine, melted
Directions
OVEN DIRECTIONS:
Preheat oven to 375˚F.

Spread cherry pie filling OR canned* cherries (drained) OR fresh* pitted cherries (3 cups) into an 8" or 9" square baking dish.

Combine melted butter with crunch mix until crumbly. Sprinkle mixture evenly over cherries.

Bake 25-30 minutes or until bubbly and golden brown. Serve warm. If desired, top with ice cream or whipped cream.
MICROWAVE DIRECTIONS:
Using an 8" or 9" square microwave-safe dish, follow steps 2 and 3 above.
Microwave uncovered on High 6-8 minutes or until bubbly. Let stand for 5 minutes. Serve warm.
*If using FRESH or CANNED (water-packed) cherries, lightly coat cooking dish with butter or cooking spray and sprinkle one (1) tablespoon of sugar over cherries to sweeten.
Tasty Variations
Use your choice of fresh or canned fruit pie filling in place of cherries.
 Chocolate Lovers - Before baking, add to crunch mix 1/2 Cup (120 g) semisweet chocolate chips.