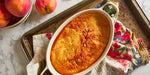 You Will Need
1 package Calhoun Bend Mill Peach Cobbler Mix
1 can (15 oz.) Sliced Peaches Packed in Syrup, Natural Juice or Water OR 3-4 Medium to Large Fresh Peaches, (about 1-1/2 lbs) peeled and sliced into thin wedges
2/3 cup Milk
4 Tbsp. Butter or Margarine, melted
Directions
Preheat oven to 375˚F.
Melt butter in either an 8" or 9" square baking dish or iron skillet.
Combine milk with cobbler mix; stir thoroughly to remove any lumps from batter.
Pour batter over butter. Then pour canned peaches with syrup, natural juice or water OR 3 cups fresh* peaches over batter. Distribute peaches evenly; avoid stirring. Note: Batter will rise above peaches while baking.
Bake 30-35 minutes or until bubbly and golden brown. Serve warm. If desired, top with ice cream or whipped cream.
*If using FRESH peaches a simple syrup is required for preparation. Dissolve 1/4 cup sugar in 1/2 cup warm water OR use 1/2 cup of your favorite fruit juice.
Tasty Variations
• Use any of the following fruits in place of peaches: apples, pears, rhubarb,
   cherries, blackberries, blueberries, pineapple chunks, apricots, strawberries,
   fruit cocktail or any other fruit.