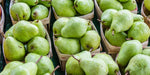 You Will Need
Pecan Crust
1 1/3 cups All-Purpose Flour
1/3 cup Brown Sugar, packed
1/3 cup Pecans, finely chopped
1/2 tsp. Ground Nutmeg
1/2 tsp. Lemon Peel, grated
2/3 cup Butter or Margarine, softened
Topping
1 package Calhoun Bend Mill Apple Crisp Mix
3-4 Medium Pears
Directions
To make the pecan crust, mix all ingredients except butter in medium bowl.
Cut in butter using pastry blender or crisscrossing 2 knives, until crumbly.
Press firmly and evenly against bottom and side of ungreased 12-inch pizza pan.
Bake 8 minutes at 375 degrees; cool.
Cut each pear lengthwise in half and remove core. Place each pear half, cut side down, on cutting surface. Cut crosswise into thin slices.
Lift each pear half with spatula and arrange on baked crust, separating and overlapping slices (retain pear shape) to cover surface of crust.
Mix up one package of Calhoun Bend Mill Apple Cinnamon Crisp Mix and sprinkle over pears.
Bake 15-20 minutes or until crust is golden brown and pears are tender.