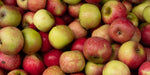 You Will Need
2/3 cup Butter or Margarine, softened
1 1/3 cups All-Purpose Flour
1 cup Granulated Sugar
1 package Calhoun Bend Mill Apple Crisp Mix
2 packages (8 oz.) Cream Cheese, softened
3 Eggs
Directions
Preheat oven to 350°. Mix butter, flour and one fourth cup sugar with spoon.
Press in ungreased rectangular pan, 13 x 9 x 2. Bake 15 minutes.
Prepare Calhoun Bend Mill Apple Crisp Mix according to package directions; set aside.
Beat cream cheese and 3/4cup sugar in a medium bowl with electric mixer on medium speed until smooth and fluffy.
Beat in eggs, one at a time, until smooth. Pour over crust.
Sprinkle Calhoun Bend Mill Apple Crisp mixture on top of cream cheese mixture.
Bake about 35 minutes or just until puffed and center is dry. Do not over bake. Cool completely. Store covered in refrigerator.