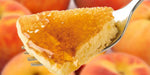 You Will Need
1 package Calhoun Bend Mill Peach Cobbler Mix
1 1/2 level cup All-Purpose Flour
1 tsp. Baking Powder
2 Tbsp. Cooking Oil
2 Eggs
2 cups Milk
1 cup Canned or Fresh Peaches, diced and drained
Directions
Combine Calhoun Bend Mill Peach Cobbler Mix, flour and baking powder in a mixing bowl.
Make a well in the center.
Combine oil, eggs, milk, and peaches; pour into well and stir just until moistened.
Using a lightly buttered skillet, pour 1/2 cup batter about 4 inches in diameter leaving at least 1 inch between pancakes.
Turn pancakes when they become puffy and full of bubbles; turning only once.

*NOTE: You can use blueberries, strawberries, blackberries, or any other fruit instead of peaches.