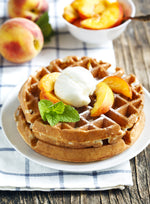 You Will Need
1 package of Calhoun Bend Mill Peach Cobbler Mix
1 1/2 cup All-Purpose Flour
1 tsp. Baking Powder
2 tbsp. Cooking Oil
2 Eggs
2 cups Milk
1 cup Canned or Fresh Peach, diced and drained
Directions
Combine Calhoun Bend Mill Peach Cobbler Mix, flour and baking powder in a mixing bowl.
Make a well in the center.
Combine oil, eggs, milk, and peaches; pour into well and stir just until moistened.
Preheat waffle maker and once ready, spray with cooking spray. Add about 1/4-1/3 cup of waffle mix to the waffle maker (depending on the size) and cook until slightly browned on both sides or until the light goes off. Continue until all of the batter has been used.
Serve by topping the waffles with more peach slices and maple syrup.