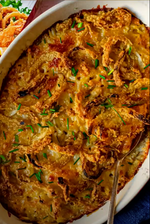 You Will Need (Serves 6)
1 (16 ounce) package of frozen Hash Browns
1 teaspoon Salt
1/2 teaspoon Black Pepper
1 teaspoon Paprika
1 teaspoon Garlic Powder
1 (8 ounce) bag of shredded Cheddar Cheese
1 1/2 cups Milk
1 Vidalia Onion
1 package Calhoun Bend Mill Awesome Onion Coating Mix
Directions
Preheat oven to 425 degrees F.
In a large bowl, add one package of hash browns, spices, milk and 2 cups of the shredded cheddar cheese.
Mix to combine and add to a greased casserole dish. Top with aluminum foil and bake for 20 minutes.
Meanwhile, slice the onion into thin strips and add to a bowl of water.
In one bowl, combine 1/4 cup of the dry mix with 1/2 cup of water. Stir the mixture thoroughly. Add 1 cup of dry mix to another bowl.
Dip the onion slices into the dry mix, then into the bowl with the mixture and dust again lightly with the dry mix.
Heat oil in a cast-iron pan or Dutch oven to 375 degrees F. Carefully add the onions to the oil and fry until golden brown. Remove from the oil and drain on a paper towel-lined plate.
Take the casserole out of the oven and remove the foil. Sprinkle with the remaining cheese and top with the crispy onions. Bake for another 10 minutes or until the cheese is bubbly and golden.
Let cool for a few minutes and serve.