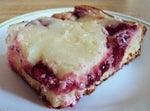 You Will Need
1 Package of Calhoun Bend Mill Blueberry Crumble Mix
4 Tablespoons or 1/2 Stick Butter MELTED
2 Cups Frozen or Fresh Raspberries
1 Tablespoon Maple Syrup or Honey
1 Pkg. (8 oz.) Cream Cheese
1 Egg
1/2 Cup Sugar
3 Tablespoons Flour
Directions
1. Combine Blueberry Crumble Mix with melted butter until mixture is crumbly. Press prepared mixture into the bottom of a baking dish. Set aside.
2. Mix frozen or fresh raspberries with maple syrup or honey and spread over the Blueberry Crumble mixture.
3. Beat together cream cheese and egg. Add in sugar and flour- mix well.
4. Spread cream cheese mixture evenly on top of fruit.
5. Bake for about 30 minutes. Let the bars cool and enjoy!