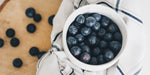 You Will Need
1 package of Calhoun Bend Mill Blueberry Crumble Mix
1 Can Blueberry Pie Filling OR 2 Cups for Fresh Blueberries
1 pkg. (8 oz.) Cream Cheese
1 Egg
1/2 Cup Sugar
3 Tablespoons Flour
Directions
Mix 1 pkg. (8 oz.) Cream Cheese and 1 Egg
**Using a whisk or fork beat until smooth and lump-free, add following:
1/2 Cup Sugar and 3 Tablespoons Flour
**Lightly coat an 8" or 9" cooking dish with butter or cooking spray.
Pour prepared cream cheese into the bottom of the pan.
Cover cream cheese with one 21 oz. can Blueberry Pie Filling or 2 cups of blueberries.
Cover with prepared Crumble Mix and bake for 30-35 minutes at 375°F.