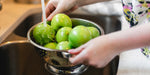 You Will Need
Apple Cheddar Pie Topping (see recipe below)
1 Deep Dish Pie Crust
1/4 cup pure maple syrup
1/4 cup honey
5-6 cups cooking apples, peeled & thinly sliced
2 tablespoon all-purpose flour
1/2 teaspoon ground cinnamon
1/2 teaspoon ground nutmeg
Directions
PREHEAT oven to 375˚F.
Make Apple Cheddar Topping; set aside.
Preheat maple syrup and honey in 10 inch skillet over medium heat; stir in apples and flour, simmer 5 minutes.
Stir in cinnamon and nutmeg.
Spoon apple mixture into pie crust; prepare Apple Cheddar Topping and sprinkle over apples.
Bake 45 – 50 minutes or until topping is golden brown and apples are tender. Serve warm.

APPLE CHEDDAR TOPPING:
1 cup (4 oz) Cheddar cheese, shredded
1 package Calhoun Bend Mill Apple Crisp Mix
Prepare Calhoun Bend Mill Apple Crisp Mix according to package directions; add the cheddar cheese and mix thoroughly.