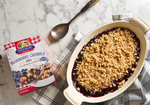 You Will Need
1 package Calhoun Bend Mill Blueberry Crumble Mix
1 Pint OR 2 – 6 oz. containers (about 2 cups) fresh blueberries (for FROZEN see below)
OR 1 can (20 to 24 ounces) of blueberry pie filling
OR canned blueberries

Directions
OVEN DIRECTIONS:
PREHEAT oven to 375˚F.
SPREAD blueberry pie filling OR canned* blueberries (drained) OR fresh* blueberries(2 cups) into an 8" or 9" square baking dish.
COMBINE melted butter with crumble mix until crumbly. Sprinkle mixture evenly over blueberries.
BAKE 25-30 minutes or until bubbly and golden brown. Serve warm.
If desired, top with ice cream or whipped cream. 
MICROWAVE DIRECTIONS:
Using an 8" or 9" square microwave-safe dish, follow steps 2 and 3 above using pie filling only.
Microwave, uncovered on High 6-8 minutes or until bubbly. Let stand 5 minutes. Serve warm.
*If using FRESH or CANNED (water packed) blueberries, lightly coat cooking dish with butter or cooking spray and sprinkle one (1) tablespoon of sugar over blueberries to sweeten.
Tasty Variations
• Use your choice of fresh or canned fruit pie filling in place of blueberries.