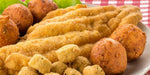 You Will Need
1 package either Calhoun Bend Mill Awesome Onion or Fried Green Tomato Coating Mix
2 1/2 cups Buttermilk
Chicken, Fish, Shrimp, Oysters
Canola Oil
Directions
Rinse chicken or seafood, pat dry; set aside.
Fill a deep-fry pot or electric skillet to no more than half its depth with canola oil. Heat deep fryer to 325° - 350°.
Put Calhoun Bend Mill Awesome Onion or Fried Green Tomato Coating Mix in bowl.
Fill another bowl with buttermilk. Place your choice of chicken or seafood, one piece at a time, in the buttermilk; shake off excess liquid, lightly coat with your choice of either Calhoun Bend Mill Coating Mix.
For Seafood, fry a few pieces at a time until golden brown. When frying chicken, fry for 10–14 minutes, turn then fry an additional 12–15 minutes longer or until juices run clear.
Drain on paper towels.