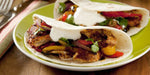 You Will Need
1 package of Calhoun Bend Mill Awesome Onion Coating Mix
1 lb. Steak (Beef or Venison) or Chicken Strips
Canola Oil
1 Large Onion, sliced
2 Large Bell Peppers, sliced
10 Flour Tortillas
Pico De Gallo (optional)
Sour Cream (optional)
Cilantro (optional)
Directions
Cut steak into 1/2 inch strips.
Dredge strips in Calhoun Bend Mill Awesome Onion Coating Mix and pan fry in small amount of canola oil until browned.
Sauté onion and bell pepper together; serve strips and vegetables wrapped in warm tortillas topped with pico de gallo, sour cream, guacamole, and/or cilantro.