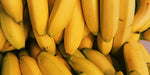 You Will Need
1 package Calhoun Bend Mill Cherry Crunch Mix
1/4 cup Flour
3 Eggs, beaten
2 cups Non-Fat Canned Milk, (add a little at a time)
2–3 Bananas, sliced
1 tsp. Vanilla
3/4 - 1 cup Sugar
2 Tbsp. Butter or Margarine
Directions
Mix flour, sugar and eggs together.
Place in a double boiler & slowly add milk while heating mixture until almost boiling.
Stir in vanilla and butter; add sliced bananas.
Pour banana mixture in medium casserole dish.
Prepare the Calhoun Bend Mill Cherry Crunch Mix according to package directions.
Sprinkle on top of banana mixture.