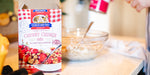 You Will Need
2 packages Calhoun Bend Mill Cherry Crunch Mix
1 cup Sugar
8 oz. Cream Cheese, softened
2 (16 oz.) cans Jellied Cranberry Sauce
2 Eggs
2 tsp. Lemon Juice
1 tsp. Vanilla
4 tsp. Cornstarch
Directions
Preheat oven to 350°.
Prepare crunch mix to directions on package.
Reserve 1 cup of the crumbs. Press remaining crumbs into a greased 13 x 9-inch baking pan.
Bake for 15 minutes.
Beat cream cheese and sugar with an electric mixer on medium speed until light and fluffy.
Beat in eggs, lemon juice and vanilla.
Spread over crust in baking pan. Beat together cranberry sauce and cornstarch, spoon evenly over cream cheese layer.
Sprinkle with reserved crumbs.
Bake 30 minutes till set. Cool at least 3 hours.
Cut into bars.