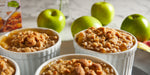 You Will Need
1 package Calhoun Bend Mill Apple Crisp Mix
1 Deep Dish Pie Crust
5 1/2 cups Apples peeled, cored, thinly sliced (1/4 inch thick)
1 Tbsp. Lemon Juice
1/2 cup Light Brown Sugar, firmly packed
3 Tbsp. All-Purpose Flour
1 tsp. Ground Cinnamon
1/2 tsp. Ground Ginger
1/8 tsp. Salt
2 Tbsp. Butter or Margarine
Sugar
Directions
Preheat oven to 400°.
Toss apples with lemon juice.
Combine brown sugar, flour, cinnamon, ginger, and salt; mix with apples.
Spoon apple mixture into pie crust; dot with butter, bake 30 minutes.
Meanwhile, prepare Calhoun Bend Mill Apple Crisp Mix according to package directions.
Remove pie from oven. Sprinkle Apple Crisp Mix over top of pie.
Return to oven and continue baking for an additional 25-30 minutes or until top is golden brown. Cool before cutting.