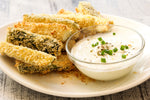 You Will Need
2 Zucchini, cut into quarters lengthwise
1/2 cup Calhoun Bend Mill Awesome Onion Coating Mix
2 Eggs, whisked
1 cup Panko Breadcrumbs
1/2 teaspoon Salt
1/4 teaspoon Black Pepper
1/2 teaspoon Italian seasoning
Directions
1. Preheat the oven to 425 degrees F.
2. Add the Calhoun Bend Mill Awesome Onion Coating Mix to a bowl and whisk two eggs in another bowl.
3. In a third bowl, mix the panko breadcrumbs with salt, black pepper, and Italian seasoning.
4. Set up an assembly line: dip each piece of zucchini in the CBM Onion Coating Mix, followed by the egg wash, and finally dip the piece into the breadcrumb mixture.
5. Place each piece on a cooling rack lined baking sheet.
6. Bake for 20-25 minutes until golden.
7. Serve with your favorite dipping sauce and enjoy!