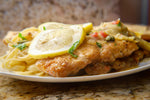 You Will Need 
2-4 thin sliced Chicken Breasts
1 package Calhoun Bend Mill Awesome Onion Coating Mix
1 tablespoon Butter
1 tablespoon Olive Oil
1 Shallot, diced
1/2 teaspoon Salt
3 Garlic Cloves, minced
1/2 Lemon, juiced
1 tablespoon Butter
1/3 cup Chicken Broth
Black pepper to taste
1-2 tablespoons Capers

Directions
1. Dip the chicken breasts into the onion coating mix to coat on all sides.
2. In a skillet, melt 1 tablespoon of butter and add olive oil over medium-high heat.
3. Once hot, turn the heat to medium and add the chicken breasts and cook for 3- 4 minutes. Flip and cook for another 3-4 minutes or until cooked through.          Remove and set aside.
4. Add the shallot to the pan and let it soften for 2 minutes. Add in 1/2 teaspoon of salt and the garlic. Stir.
5. Pour or squeeze in the lemon juice. Then add in another tablespoon of butter, lemon zest and broth.
6. Let the sauce reduce for about 4 minutes, stirring occasionally. Season with black pepper.
7. Turn off the heat. Spoon sauce over the chicken and garnish with capers.
8. Serve with vegetables and pasta and enjoy!