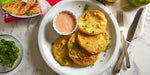 You Will Need
1 package of Calhoun Bend Mill Fried Green Tomato Coating Mix
Cold water
Cooking oil
3-4 Green Tomatoes (Only GREEN TOMATOES have the proper texture for frying).


Directions
SLICE Green tomatoes into 1/4 inch slices. Place slices into cold water.
PREPARE tomato slices by coating both sides with dry coating mix.
PAN FRY in 375˚F oil until crisp and golden brown on both sides. Drain on absorbent paper. Serve Hot


Serve with a Dipping Sauce
• Ketchup, hot sauce, mustard, Ranch Dressing or any dressing of your choice,
   or make your own sauce by combining Mayonnaise with your favorite spices.

Tasty Variations
• Try something different on your hamburger or other favorite sandwich by adding
a fried green tomato slice or fried onion ring.
• Use any of the following items in place of green tomatoes: okra, squash, potatoes, zucchini, eggplant, jalapeno, dill pickle slices, onions, mushrooms, broccoli flowerets, cauliflowerets, mozzarella cheese sticks.
• Coating mix may be used to fry any of the following meats such as: pork chops,
round steak, wild game, chicken, fish or shrimp.